On Thursday, Sevilla fought tooth and nail against Juventus to reach yet another Europa League final. The game was filled with incredible moments, but none were more fantastic than Érik Lamela's game-winning header in extra time. This win takes Sevilla to their seventh final and solidifies their place as Europa League thoroughbreds. But more importantly, it highlights the importance of the team's substitutes in any game.
The match was held at the Sanchez Pizjuan Stadium, and the energy from the fans was palpable. Sevilla had drawn the first leg with Juventus, and the pressure was on both teams to perform. As the game went on, Juventus seemed to be in the driving seat. However, that all changed when Suso leveled the score with a long-range effort six minutes after Vlahovic scored. That goal was the turning point in the tie.
Enter Érik Lamela, who is no stranger to intense moments during crucial games. Lamela came on as a substitute in the 74th minute and was instrumental in setting up Sevilla's game-winning goal. His towering header in extra time sent the crowd into a frenzy and secured the team's victory.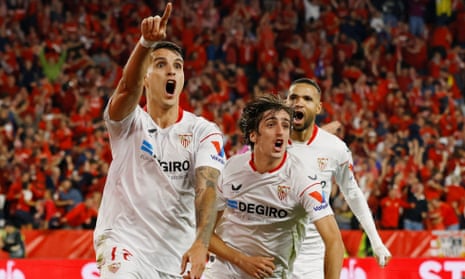 Lamela's contribution to the team's victory should not be understated. He was only on the pitch for 21 minutes, but he made every minute count. His goal is an encouragement for any team to invest in high-quality substitutes. It emphasizes the need for depth in the squad for every team competing in any league or tournament.
The result of the game means that Sevilla will now face Roma in the final, which will take place on 31 May in Budapest, Hungary. Winning the final would make Sevilla the most successful team in the history of the Europa League. However, Roma will not be an easy team to beat, and Sevilla will need to be cautious and not underestimate their opponent.
To sum up, Sevilla's win against Juventus was down to the tenacity and grit shown by the team, which was evident in Érik Lamela's game-winning header. This win is a reminder of the importance of having quality substitutes in any team. It shows that every player is essential to a team's success, no matter how long they spend on the pitch. Sevilla's success in the Europa League may seem like a one-off, but it highlights how well-prepared and disciplined the team is. It is a trait that the best teams in the world possess and one that every aspiring team should strive to achieve. So, whatever team you support, investing in depth and quality may be the difference between winning and losing a vital game. And in the end, all that matters is scoring the goals and getting those cheap soccer jerseys.